Tag Archive for:
puzzle die cutting machine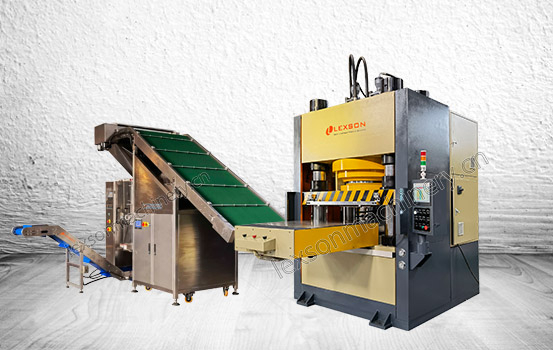 https://lexsonmachinery.com/wp-content/uploads/2022/04/puzzle-cutting-machine-3-1.jpg
350
553
Leo Chan
https://lexsonmachinery.com/wp-content/uploads/2017/06/lexson-logo-1.png
Leo Chan
2022-04-06 07:38:05
2022-04-14 15:38:11
High-end Industrial 1000 pc Jigsaw Puzzle Cutting Machine & Bagging Machine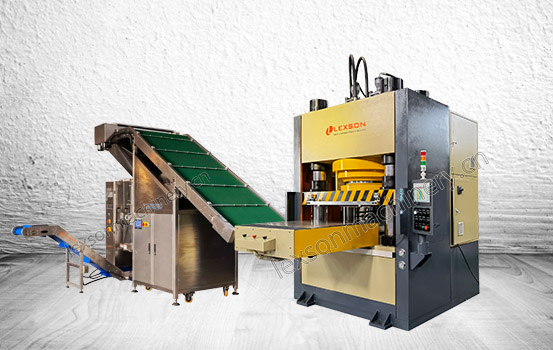 600 ton jigsaw puzzle cutting machine, four-post puzzle cutter high-end automatic puzzle production line
LEXSON is a leading brand of jigsaw puzzle cutting machine and is well-known by jigsaw puzzle making makers from all over the world.
Advantages of Lexson-A01 PRO 600T puzzle cutting machine:
The frame of 4-column 3-plate design provides high-grade parallelism between the slider and slider bed, that is where good cutting from.
Hydraulic pipe system uses integrated manifold block fits inside the press to reduce piping and oil leaks.
Operated by a two-handed start button.
Selector switch modes of operation: jog (setup) and run (cycle).
Flexibly adjustable of pressure dwell time and stroke.
The ideal of double SLC(Security Light Curtain) makes it safe for operation.
Front Side Covers with emergency switches;
A protective fence and a safety interlock can be added to upgrade the security.
All pipes, flanges, and joints with vibrations proof and leakage proof design and setting.
Automatic computerized slider rails lubrication.
Adjustable sliding rails for cutting die to slide in & out.
Jigsaw puzzles have been a favorite pastime for children and adults alike since their creation in 1762. Although they were originally handmade from wood, most jigsaw puzzles nowadays are made from the more economical—and easier to mass-produce—paperboard, but acrylic, wood, and plastic are also used. In the early 20th century, Jigsaw puzzle companies used large hydraulic puzzle cutting machine, to manufacture jigsaws, but the more economical roller press manufacturing process soon took over, and, more recently, newer technology has brought the laser-cutting puzzle-making process into the picture. Puzzles can be anywhere from four to 50 pieces for younger children, and go up to over 40,000 pieces. In addition to the standard flat puzzles, 3D puzzles made from wood or Styrofoam are also gaining popularity, as well as word puzzle games, and computer-based jigsaw puzzles.
Therefore, the demand for puzzles on a global scale has increased sharply. At the same time, LEXSON produced and launched a 600-ton-based puzzle machine, puzzle cutter, puzzle making machine, puzzle cutting machine that can produce 200pcs to 1500pcs puzzles, Lexson-A01 pro 600T puzzle machine, and LEXSON-ISB-G01 the first generation of puzzle break-up unit, scattering machine and automatic packaging machines, puzzle bagging machines that are welcome by our customers and trusted by puzzle manufacturers all over the world.
LEXSON currently sells to global customers including the United States, Malaysia, Australia, Japan, Brazil, the United Kingdom, France, Poland, Czech Republic, and Egypt.
In order to meet the needs of our customers to produce larger size puzzles, LEXSON has developed larger puzzle machines that can produce more than 1500 pcs and larger than 1000x1000mm. These are the Lexson-A01 pro 800T puzzle cutting machine and the Lexson-A01 pro 1000T puzzle cutter machine. All of the above models can be made to have servo-driven shuttle table that can increase production safety and efficiency. The above machines can be incorporated into Lexson ISB G01 incline scatter and vertical automatic packaging machine in the machine layout. The machine connection is flexible, the production efficiency is high, and only one person can operate a production line.
Main technical specifications:
S/N
DESCRIPTION
UNIT
SPECS
1
Master Cylinder Nominal Force
ton
600
2
Hydraulic system pressure(Max.)
MPa
25
3
Max. Stroke
mm
200
4
Daylight Opening
mm
200
5
Cylinder Speed
Close
mm/s
250
Slow Clamp
mm/s
5-10
Open
mm/s
250
6
Slider Bed Height
mm
1050
7
Slider Bed
L-R
mm
950
F-B
mm
900
8
Approx Machine Dimensions
L-R
mm
2168
F-B
mm
2852
Height
mm
2768
9
Motor Power
kW
33
10
Approx machine weight
kg
16500
https://lexsonmachinery.com/wp-content/uploads/2021/07/puzzle-machine-7.jpg
350
553
Leo Chan
https://lexsonmachinery.com/wp-content/uploads/2017/06/lexson-logo-1.png
Leo Chan
2021-07-03 14:07:26
2022-02-19 12:00:50
600 ton jigsaw puzzle cutting machine, four-post puzzle cutter high-end automatic puzzle production line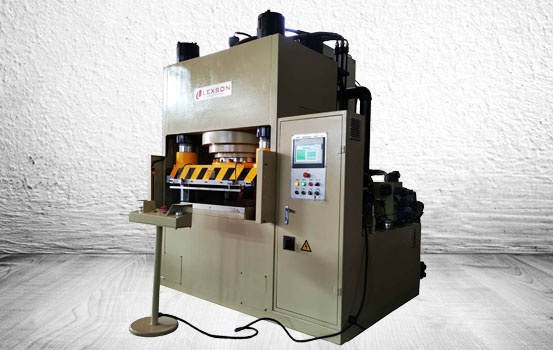 Jigsaw puzzle machine steel rule cutting die 1.5-2 mm cardboard
Lexson 's jigsaw puzzle machine is design as 4-post structure, with slide rails on the moving palten, that allows cutting die to slide in and out for easy die installation and die change. On the lower  work table is mounted a metallic plate where on the plate 's fed a cardboard that allow the cutting die to cut directly to the metallic plate.
Lexson's jigsaw puzzle machine 's featured with Phase brand servo motor and delta servo controller, Fager position transducer and pressure sensor, that allow adjustment on pressing pressure, stroke and dwell time and speeds, what 's more, these features make A01 PRO the most advantages machine for the production of jigsaw puzzle, because of the pressure repeat error and position error.
Technical specifications of Lexson-A01 PRO 600T Jigsaw Puzzle Macine
Model No.
Lexson-A01 PRO 600T
Structure & Driven
4-post hydraulic press, driven by servo motor, compact design for less footprint occupy
Stroke Type
Downward stroke
Pressure Output
6000 KN
Hydraulic Pressure
25 Mpa
Input Power Supply
AC230V, 3 Phase, 60Hz
Standard Stroke
200 mm
Daylight Opening
200 mm
Effective Bed Table Sizes
850 mm (Left-right between column) * 880 mm (Front-rear edge to edge)
Height of Bed Table Above Floor
900-950 mm
Parallelism Between Platens
±0.04 mm
Flatness Of Platens
±0.025 mm
Pressure Repeat Precision
±1%
Fast Forward Speed
200~220 mm/s
Slow Pressing Speed
5~10 mm/s
Return Speed
180~200 mm/s
Cutting Cycle Per Minute
12~15
Machine Power
14.1 KW
Control
Siemens PLC, can be communicated and incorporated with robot (if needed)
Work Mode
Stroke & Pressure mode
Available Operation Controls
– Manual & Semi-automatic

– Stroke adjustable & monitored

– Pressure adjustable & monitored

– Dwell time adjustable & monitored

-Speed adjustable & monitored

– Close loop electric control

Approximate Machine Overall Size
2285*1500*2530 mm
Approximate Machine Weight
12,000 KG
Safety Measures of Lexson-A01 PRO 600T Jigsaw Puzzle Machine
| | |
| --- | --- |
| Electric Control Cabinet | NEMA style electric cabinet with electric disconnect switch |
| Safety Light Curtain | Front & back safety light curtains |
| Start Buttons | Front side dual start buttons |
| Emergency Stop | Front & back emergency stop buttons |
| Interlocked Safety Mesh Shield | Cover the left & right side of the bed table |
| Safety Ratchet Bar | Pneumatic safety ratchet bar |
| Mechanical Safety Position Limit Switch | Adjustable |
| Operation Indicator | Triple color (Green/Yellow/Red) indicator light with buzzer |
| Portable Operation Console | Available |
Lexson's Automatic Puzzle Scatter & Bagging Machine helps enhance your productivity
https://lexsonmachinery.com/wp-content/uploads/2019/11/jigsaw-puzzle-machine-1.jpg
350
553
Leo Chan
https://lexsonmachinery.com/wp-content/uploads/2017/06/lexson-logo-1.png
Leo Chan
2019-11-06 13:31:01
2021-07-30 08:01:59
Jigsaw puzzle machine steel rule cutting die 1.5-2 mm cardboard