Hydraulic Leather Cutting Machine 200T Pressing Force With Large Table And Shuttle Table
Hydraulic Leather Cutting Machine 200T Pressing Force With Large Table And Shuttle Table
Lexson-A01 PRO 200T Hydraulic Leather Cutting Press 's made as Four-post presses, also known as 4-column presses with unilateral shuttle table or Bilateral shuttle table.
This allows the die cutting machine to have working table upto 2000mm, can be even larger.
With the hydraulic cutting press shuttle table, the cut leathers can still be unloaded easily and efficiently out of the hydraulic die cutting press on the shuttle table which 's controlled by position sensor.
Besides, Lexson 's hydraulic die cutting machine adopts servo motor and servo controller, this made our press a hydraulic and servo-electric presses, that consumes 50-70% less electricity, and more stable pressure (±1bar) and high positioning accuracy(±0.01mm), owe to all these make our hydraulic press cutting machine a no more suitable solution for hydraulic cutting press.
Advantages of 4-Post Hydraulic Leather Cutting Machine:
Allow secondary adjustment of plate parallelism, that provides the press higher parallelism, which 's strictely required by die cutting process.
Typically more economical than gib-guided presses.
 Allow the press to have large working table, namely the area for cutting 's bigger than machine of other types.
Allow four-sided access to the working area
Modular design, built to your specifications, even though working table 's much bigger other types of machine, due to modular & compact design, it still has small footprint.
Technical specification of Lexson-A01 PRO 200T Hydraulic Die Cutting Machine
Model No.
Lexson-A01 PRO 200T
Fast Forward Speed
150~160 mm/s
Structure
-4-post hydraulic press

-Top-mounted hydraulic system

compact design for less footprint

With automatic one OR two shuttle table

Slow Pressing Speed
8~15 mm/s
Driven
Driven by servo motor + servo controller
Return Speed
130~140 mm/s
Stroke Type
Downward stroke
Parallelism Between Platens
±0.04 mm
Hydraulic Pressure
20 Mpa
Flatness of Platens
±0.035 mm
Pressure Output
2000 KN
Power Supply
3phase 230V 50Hz
Standard Stroke
300 mm
Motor Power
15 KW
Daylight Opening
300 mm
Approximate Machine Overall Size
2320*3250*2338 mm (one-side shuttle table)
Effective Bed Table Sizes
1600 (between columns) * 1600 (between edges) mm
2320*4930*2338 mm (dual-side shuttle table)
Height of Bed Table Above Floor
850 mm
Approximate Machine Weight
7,500 KG (one-side shuttle table)
8,200 KG (dual-side shuttle table)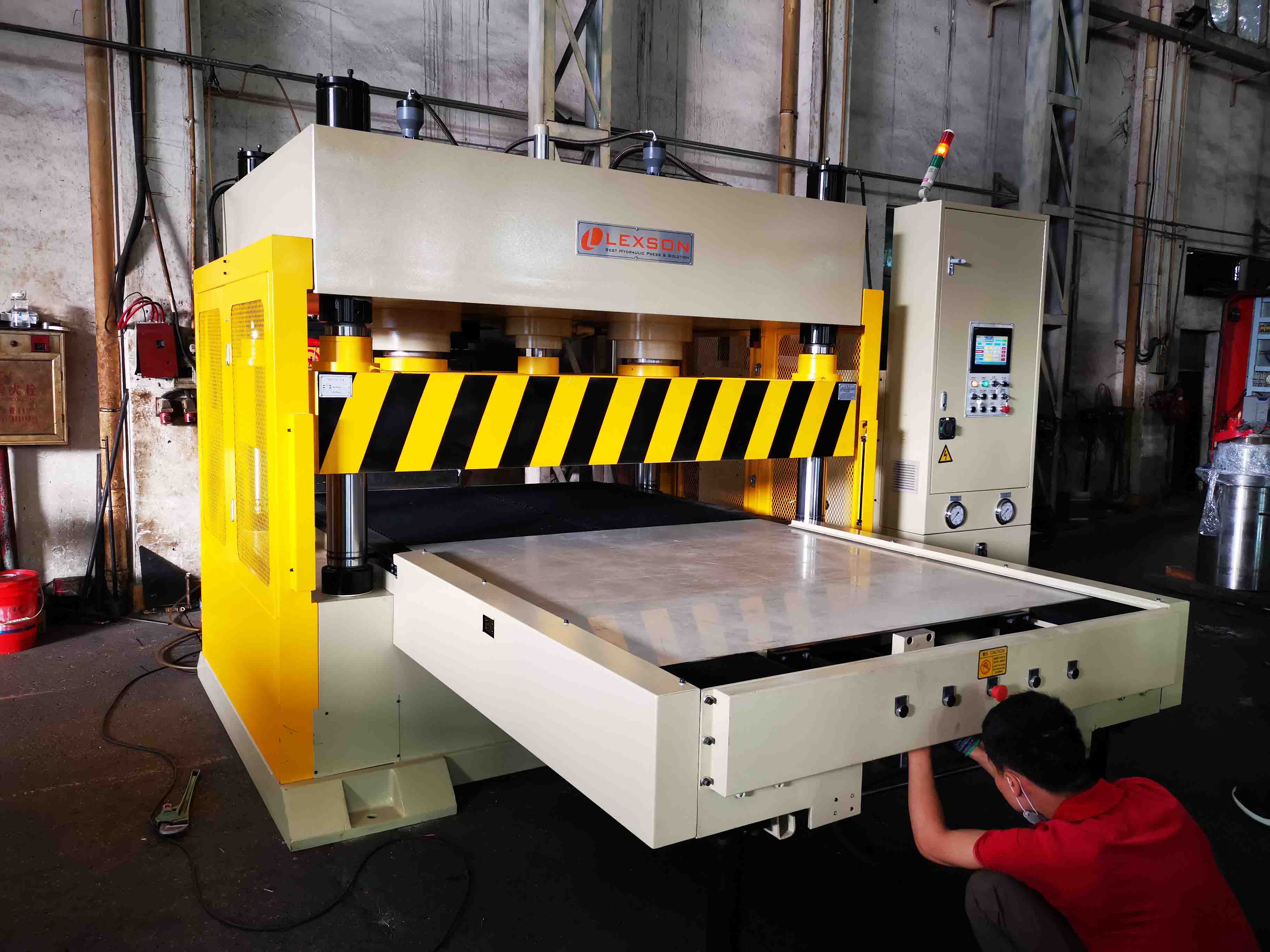 hydraulic-leather-cutting-machine
Features:
– Omron/Siemens/Allen Bradley PLC control
– Omron/Siemens Color HMI (Human-Machine Interface)
– Pressure Sensor force feedback & Linear position transducer feedback
– Work mode: Fixed Pressure mode & Fixed Position mode
– Smooth and flatbed platen and moving platen
– Automatically lubricating system
– Tricolor(green/yellow/red) operation indicator with warning buzzer
– PLC communication with external equipment (if needed)
– Hydraulic oil cooler
Safety Measures:
– Double start buttons on front side of the shuttle table
– Safety photoelectric light curtain on front and rear side of the bed table, covering the whole daylight open
– Emergency stop button on front side of the shuttle table, manual reset required
– Pneumatic safety ratchet bar to prevent the sudden fall of the slider, in case of any error happened to the hydraulic system
– Interlocked safety mesh shield covers the left/right/rear side of bed table, can be opened and removed. When opened, the motor will shut down automatically, manual reset required
– NEMA style electric control cabinet with electric disconnect switch
– Selector switch with lock, only authorized person has the access for operation
– Dual channel safety monitoring circuit for double start buttons, safety light curtain, emergency stop button, motor on/off, ect.
Available Operation Controls:
– Manual & Auto
– Pressure mode & Position mode switchable
– Stroke adjustable & monitoring
– Pressure adjustable & monitoring
– Speed adjustable & monitoring
– Pressure hold time adjustable & monitoring
– Closed loop electric control
– Specifications programmable on HMI
https://lexsonmachinery.com/wp-content/uploads/2020/03/hydraulic-leather-cutting-machine.jpg
350
553
Leo Chan
https://lexsonmachinery.com/wp-content/uploads/2017/06/lexson-logo-1.png
Leo Chan
2020-03-22 09:03:08
2020-03-23 16:13:23
Hydraulic Leather Cutting Machine 200T Pressing Force With Large Table And Shuttle Table